05 Dec

2017 – Holiday Giving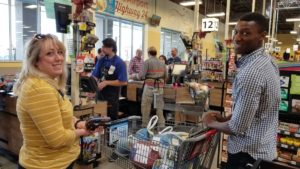 Each year, the holiday season is busy at Summit Technical Solutions as we support the communities in which we live and work! Once again, the Colorado Springs Headquarters office worked diligently to collect and distribute donations of food and gifts to amazing organizations with great causes. Carts full of turkeys went to the Care & Share Food Bank, where these yearly food donations ensure that no family goes without a holiday meal, and those without homes have warm food as a small comfort.
Continuing the regular tradition, the HQ office also supported the Teens with Promise program. In support of this program, each employee was given the opportunity to purchases gifts for one of 25 teens in the Pikes Peak region. The Teens with Promise organizational mission is to advocate for at-risk teens by creating and enhancing opportunities to complete their education, while promoting recreation and social activities. Teens who are homeless, or living in poverty, are the most forgotten group during the holiday season. In support of the Teens with Promise mission, each member of the STS team purchased and individually gift-wrapped more than 100 items ranging from, clothing, sports equipment, gift cards for food or entertainment, and art supplies. This yearly tradition is just one way that the STS team gives back to our community.