12 Feb

2016 – STEM Support in Colorado Springs School District 49
Summit Technical Solutions is proud to support STEM education in our local communities, and makes it a priority every year to participate in science fairs in the local school districts. To start the year off right, on February 11, 2016 four employees from HQ in Colorado Springs volunteered their time to judge the Science Fair at Odyssey Elementary School, School District 49. Each of the four volunteers listened to presentations from more than 150 students in the 4th & 5th grade, providing feedback and offering a platform to challenge the students mentally, discussing their experiments and their scientific methods.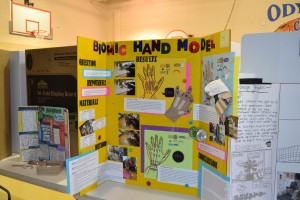 The Science Fair projects were categorized into 5 different areas: Physical Science, Engineering, Consumer Science, Biological Science, and Health and Behavioral Science. The presentations and experiments were all unique and many of the students showed strong potential for a future in STEM. Student projects ranged vastly from the standard volcano and salt growing experiments, to testing the conductivity of water v.s. metal, and building bionic hands. Many of the engineering projects stood out to the volunteers as a future innovator: A female student designed and built an automatic formula mixer using an old first aid cabinet, a disassembled fan, and a valve/funnel set-up.
Austin G., Mechanical Engineer, shared his experience:
"I enjoyed the diversity of the science fair. It was intriguing to see the excitement the next generation is showing for both science and engineering!"
The science fair was inspiring. It wouldn't be surprising to see these students become entrepreneurs, engineers, creating new vaccines or designing the latest in technology. We look forward to participating in more events throughout the year, and supporting this science fair next year!