31 Dec

2015 – Holiday Giving

This holiday season has been a very busy one for everyone at Summit Technical Solutions! Each office has been working diligently to collect and distribute food donations, gift donations, and spending some afternoons volunteering at local organizations. Across the nation, carts full of food were donated to four different organizations including the DC Central Soup Kitchen, Care and Share Food Bank, Colorado Springs Rescue Mission, and the Salvation Army. The food donations ensure that no family went without a holiday meal, and those without homes had more than enough warm food.
Six STS locations across the globe participated in putting together gift donations for more than 75 children ranging in age from 2 weeks old to 17 years old. Many of the offices adopted families or children, fulfilling specific gift requests. It was amazing to see so many employees coming together to support more than 10 different organizations, volunteering not only to purchase the gifts for each of their adopted families, but gift wrapping presents, and delivering them to each location. The gift donations ranged from gift cards, to toys, and housewares and appliances.

Once again, the HQ office supported the Teens with Promise program, purchasing gifts for 25 teens in the Pikes Peak region. The Teens with Promise organizational mission is to advocate for at-risk teens by creating and enhancing opportunities to complete their education, while promoting recreation and social activities. Teens living in poverty are the most forgotten group during the holiday season, so in support of the Teens with Promise mission, STS purchased and giftwrapped more than 100 items including  art supplies, clothing, a long board, and basketball.
More than 50 gift cards were donated to the Bob Telmosse Foundation Annual Christmas Giveaway, intended for their teenaged group, which often doesn't get enough donations. In addition to the gift cards, four of the STS headquarters staff volunteered to assist with the giveaway on Saturday, December 19th. Jaime Socotch, Austin Gaudlip, Sandy McGrail and Donna DeMarco spent their volunteering hours helping kids pick out new bikes, walking families through the donation facility, and assisting families in choosing their gifts! Hundreds of children from across the city came to choose presents, many of whom would otherwise not have received any.
Ashley Sanks, Tyler Bricking, Miriam Haas, and Brandon Terrien in Colorado Springs assisted three families who are a part of the Wounded Warriors at the Air Force Academy, providing gifts for more than 14 children alone, and gift cards for the families to purchase food. These gifts ranged from activity books and crayons to a few choice video games and books requested by a family with 6 kids. STS is always finding ways to support our veterans, and this opportunity was one that we couldn't pass up!
Lorene Watkins, the new AFSO and Office Manager in Huntsville Alabama worked with Girls Inc. to adopt a family for the holiday. Girl's Inc. is a STEM organization "Inspiring all girls to be strong, smart, and bold", which aligns well with STS and other support throughout the year. Lorene was able to adopt a family of four, with all girls, and provided everything on their wish list, including gifts for the single mother, and winter coats for the children!
Jackie Willson in Shrieveport, LA, with assistance from her kids, adopted a family through the Providence House who supports homeless families, and battered women. In addition to the adopted family, Jackie was also able to provide support to the local Salvation Army. Jackie, said her donations went far beyond what STS assisted with providing, and shared that one vendor she purchased toys from "gave as many discounts as they could" including $25.00 off an expensive item on one child's wish list, and 25% off her total purchase, just so she could buy the right gift! Her gift list included items like bikes for each of the children, a new purse for mom, and housewares and various other toys and games for the family.
Tina Alewel, Jacques' Hassen, and Glenn Anderson at the NRC all worked together to purchase clothing, toys, and house ware items for more than 6 families at the City Union Mission, an organization that takes items and distributes their donations through a "Holiday Store". They differ from some organizations as they take the time to ensure the parents, as much as the children, are taken care of over the holidays. After delivering the gifts, all three employees were given a tour of the City Union Mission facility, and Tina shared that the families who come for gifts select 2-3 items for each of their children, two items for each parent, and an item for the "family". After the gifts are chose, the family goes home, and the items are then wrapped by the Mission, and delivered in a large sack to the family home, just like Santa would, truly delivering the holiday spirit to the families who need it most.
The gift giving doesn't stop there. Albany County Department of Youth, Children and Family Services; Bring the Joy of the Season to Children in Need. It's all about making a difference.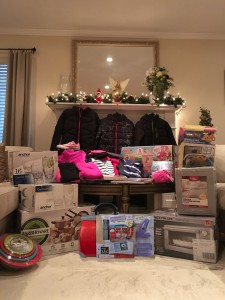 Since its inception, more than 35 years ago, the Adopt-A-Family Program has helped make the holidays a special time for hundreds of local children and families. The Department for Children, Youth and Families matches families with donors who can make the season a little better for children and families in Albany County.  This year, STS was able to adopt two families (8 individuals) and gifted coats, shoes, bedding and blankets, sweaters/jeans/shirts, STEM toys, art supplies, household goods (pots/pans, bowls, glasses, toaster oven) and two gift certificates to the local grocery store.  Pam Heeps shared that she was also able to encourage STEM education by giving the gift of an "MC Squared Experiment Test Lab" intended to inspire STEM in a younger generation of girls. This gift was requested by one of the children in her adopted family.
Additionally, Bill Zolp, site lead for SMDA2S, worked with the DC Central Soup Kitchen to donate food to the shelter with the support of this team. The kitchen shared a list of needs with STS, and with the assistance of multiple employee vehicles, STS was able to drop off a large donation of food to the kitchen.
In addition, the SMDA2S team in Virginia pulled together a monetary donation to support another deserving organization, Jill's House. Jill's House provides a safe, fun place full of adventure and tailor-made activities to children with special needs while giving their parents and caregivers desperately-needed time to rest and recharge.
Last, but certainly not least, Ronnie Crews was the lead for donations given to the Youth Organization, Jugendbuero Ramstein, in Ramstein Germany. The Jugendbuero Ramstein is gathering money and donations for refugee children. Their intent is to buy clothes and shoes for the winter season, because most of the refugee families and children came with only what they were wearing. Ronnie coordinated a donation from STS to the youth organization to support their amazing cause.
There was overwhelming support from all corners of STS to complete these holiday donations around the world. Each of the organizations chosen were due to their ties to children in need, STEM eduction, or Veterans, and it was an honor for STS to work with so many amazing groups, and assist families in need this holiday season.